Shield Your Body From Your Laptop's Harmful Emissions.
Triple shielding power protects you from:

Wireless radiation (RF, from WiFi & Bluetooth);
Low frequency-magnetic radiation (ELF-magnetic, from your device's power supply;
Heat emissions.

5G Tested

 

up to 20 GHz. Also works on 4G/LTE, WiFi and Bluetooth.
Convenient Design: Thin and portable so you can bring it wherever you go. Features anti-slip grip, and it's easy to clean with a rag or paper towel.
Works with all models of laptops, tablets and all electronic devices.
Available in multiple sizes and colors.
Powerful, Affordable EMF Protection for Laptops & Devices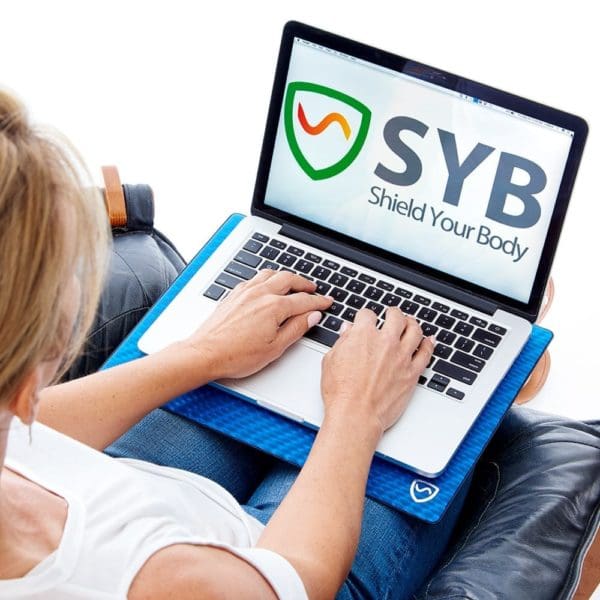 The SYB Laptop Pad is a  powerful, convenient and affordable way to Shield Your Body from all of your laptop's harmful EMF radiation and heat emissions.
Simply place your laptop or tablet on the SYB Laptop Pad to shield your body from harmful wifi radiation.
Real Science
The SYB Laptop Pad uses universally accepted scientific principles to Shield Your Body against harmful EMF radiation from devices like laptops and tablets.
Inside each SYB Laptop Pad is a mesh of ferro-magnetic steel, and aluminum plates, to deflect harmful EMF radiation, working in much the same way as a Faraday cage.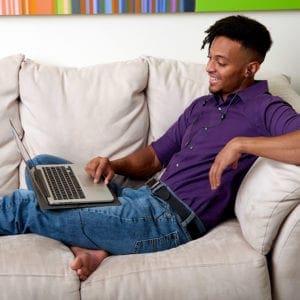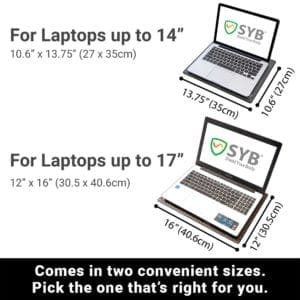 Available in Multiple Sizes
Our SYB Laptop Pad comes in two convenient sizes. 
Pick the one that's right for your laptop or device.
And, our 17″ Pad is the largest EMF laptop protection available, designed to fit even the largest PC laptops.
Available in Multiple Colors
The SYB Laptop Pad is available in multiple colors, with a unique design.
So pick the one that matches your style!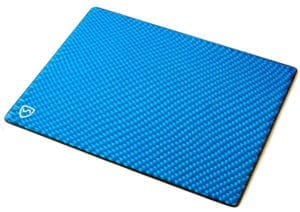 Quality Construction
The SYB Laptop Pad is made from a plate of ferromagnetic steel and a layer of conductive alloy, encased in vinyl. It's incredibly durable – and that's why we're confident to offer you a lifetime warranty.

Easy to Use
The SYB Laptop Pad couldn't be easier to use. Just put your laptop, tablet or other device on your Pad while you work. That's it! Now you're protected!

Smart Design
The SYB Laptop Pad does not interfere with your computer or tablet's normal operation and does not cause over-heating. It simply deflects the harmful radiation and heat from the bottom of your laptop away from your lap, body and reproductive organs. 

Easy to Clean
To clean, simply wipe down the Pad with a damp cloth or rag, with or without soap.