SYB EMF Bed Canopy - 5G tested. Up to 26 GHz.
Product image 1
Product image 2
Product image 3
Product image 4
Product image 5
Product image 6
Product image 7
Product image 8
FREE US SHIPPING - NO SALES TAX - FINANCING AVAILABLE - FLOOR MATS INCLUDED

Shield Your Body – all night long – with the powerful SYB Bed Canopy.

The most advanced, effective and comprehensive EMF Bed Canopy available anywhere. 5G tested! Up to 26 GHz.
Professional testing results can be viewed HERE.
Shield Your Body from up to 99% of harmful EMF radiation.
With included floor mats, you get

 

complete protection in all directions.
Easy and effortless entrance and exit through overlapping

 

slits on both sides.
Grounding is not required.
Hypoallergenic & non-toxic.
86.6" x 86.6" x 86.6" (220x220x200 cm), it's big enough for almost any

 

king sized bed.
Includes hardware for easy ceiling mount.
Machine washable.
Material: Canopy: 100% silver. Floor mats: 30% stainless steel, 30% polyester, 40% cotton.
Cube design allows for maximum space and sleeping comfort. 
Description
Shield Your Body All Night Long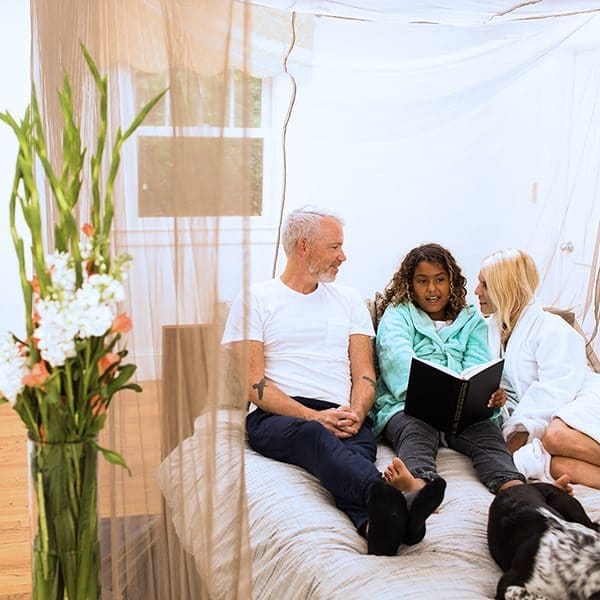 The SYB Bed Canopy shields your entire body all night long while you sleep.
Laboratory-tested against 5G up to 26 GHz, it also protects you from WiFi, 4G and Bluetooth– all the wireless frequencies of EMF.
AND– unlike other EMF bed canopies on the market, ours includes floor mats, so you can be fully protected from all six sides– creating complete protection from every direction.
It's 86.6" wide x 86.6" long x 86.6" tall (220cm x 220cm x 220cm) and fits all standard king-sized beds.
Floor Mats Included
Unlike other EMF bed canopies, ours includes two floor mats so you are protected in every single direction while you sleep.
Each floor mat is 55.1″ x 98.4″ (140*250cm) and made from 30% stainless steel, 30% polyester and 40% cotton.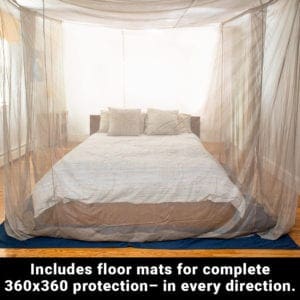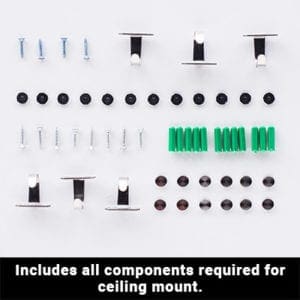 Easy to Use
The SYB Bed Canopy does not require grounding, and it includes a ceiling mount kit for easy installation.
And since each SYB Bed Canopy weighs less than two pounds, you don't need any special reinforcement in the ceiling. The mounting kit includes:
6 hooks
12 screws (2 each per hook)
12 washers 
12 caps
12 anchors
Alternatively, if you prefer, you can also buy a canopy frame (sold separately) for free-standing use.
5G Tested
The SYB Bed Canopy is 5G tested – up to 26 GHz.
So you can rest easy knowing you are protected not only from 3G, 4G, LTE, WiFi and Bluetooth, but also from all the new 5G tech and antennas. 
See the full laboratory test results.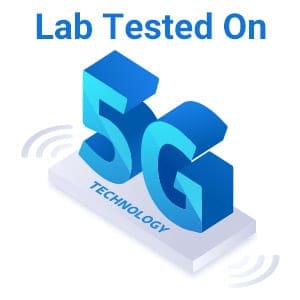 Quality
Manufactured from luxurious, light-weight, breathable, silver thread. And it features high quality stitching for durability.

Easy to Use
Just install it and forget it! Get in every night for peaceful, protected sleep.

Smart Design
Includes slits on both sides for easy and convenient exit and entry. And the included floor mats mean you are protected in every direction.

Machine Washable
Your new SYB Bed Canopy is machine washable! 
Care: Machine wash with cold water on delicate setting, or hand wash with cold water. Wash with similar colours. Air dry only. Do not iron, twist, wring dry or dry clean.